Regular Hours (Central Time):
Mon - Fri 8:00 AM to 6:00 PM

Overtime:
Mon - Fri 6:00 PM to 9:00 PM
Saturday 9:00 AM to 5:00 PM
Based in Tulsa, OK, on-site service is provided in Oklahoma as well as northwest Arkansas and southwest Missouri.

Telephone, remote, and email support is provided nation-wide.


10611 E 17th Pl Tulsa, OK 74128
Sage 50cloud Pro Accounting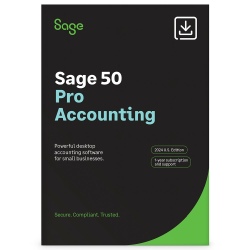 Summary: Sage 50 Pro Accounting is quite full featured for an entry level program. It does true double entry accounting. In addition to the basic general ledger, accounts payable, and accounts receivable, it adds sales order, purchase order, inventory, payroll and basic job costing. Forms (such as invoices and checks), financial statements, and other reports are all fully customizable. The main thing that keeps Sage 50 Pro firmly in the entry level category is that it is only available as a single user program.

Modules Included: General Ledger, Accounts Receivable, Accounts Payable, Bank Reconciliation, Inventory, Sales Order, Purchase Order, and a limited version of Job Cost. The Payroll module is included but tax formulas and forms (such as 941 & W-2s) require a separate subscription.



Notable Features:
Inventory

- For this price point, Sage 50 Pro has very strong inventory features. You can choose between FIFO, LIFO, and Average costing. You can set minimum stock level and reorder quantities. Each item can have separate descriptions for sales and purchasing. You can even set up assembly items with a bill of materials. But be warned, in Pro, you can't edit the bill of materials once it has been used. For that you will need to look at Premium or higher. In addition to true inventory items, you can also set up non-stock, service, labor, and description-only items that are available to make invoicing and purchasing easier but that don't track quantity on hand and costing history.

Sales Orders

- Allows you to track sales that are waiting to be filled. Sales orders can be converted into sales invoices to avoid retyping the same information. Sales orders also commit inventory to help you know when to reorder.

Quotes

- You can print quotes for your customers. If the quote is accepted, it can be converted in to either a sales order or an invoice with just a few clicks.

Purchase Orders

- PO's interface with both the inventory and accounts payable. So when you receive the PO, it automatically increases inventory and sets up the invoice in accounts payable.

Payroll

- Pro has a very capable payroll module but, as with all versions of Sage 50, it requires the purchase of a separate payroll tax subscription. In addition to federal and state taxes, it handles just about any regular or pretax deduction you can throw at it such as insurance, garnishments and retirement plans including traditional or Roth 401k and IRA. Vacation and sick time can be tracked using either a lump sum or accrual method. Sage 50 Pro does not accommodate time card entry like the higher versions do. It can print signature ready forms on plain paper for most payroll tax reports. E-filing and direct deposit are available as add-on services.

Job Costing

– Set up jobs and assign income, expenses, and hours to jobs by tagging transactions (sales invoices, purchase invoices, payroll checks, general journal entries, etc) with job numbers. Run reports to show summary or detail income and expense for each job.

Customizable Reports

- Financial statements can be modified extensively, allowing you to create detailed reports, summary reports, or summary reports with supporting schedules. You can customize the order in which accounts are presented and insert subtotals at any point. While departmental reporting is listed as a feature in Sage 50 Premium, they can also be done in Pro of Complete without the aid of the automated feature found in Premium. Other (non-financial statement) reports can also be customized and saved as new reports. Most allow you to the change sort order, add or remove columns, apply filters, and some give detail and summary options.

Customizable Forms -

Printed forms are very customizable, including the ability to add your logo. You have control over fonts, colors, and field placement. You cannot, however, create new fields.

ODBC and OLEDB access

- You can establish a read-only connection to your Sage 50 data using ODBC or OLEDB. This allows you to extract data from Sage 50 for analysis in other programs such as Excel or Access.
This Web site is owned by IQ Accounting Solutions LLC. IQ Accounting Solutions LLC is independent from Sage Software and is not authorized to make any statement, representation or warranties or grant any license or permission on behalf of Sage Software regarding any product, service or Web site content. Certain materials made available on or through this Web site are owned by Sage Software and cannot be used without Sage Software's prior written permission.
Save 20%
Still have questions or want a demo? Call me at 918-851-9713
Add Payroll Tax Formulas and E-Filing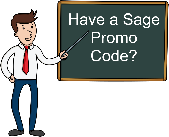 I will match any of Sage's active promo code prices for Sage 50 Accounting
* Discount applies to first year of subscription only. To ensure continuous service, your Sage Business Care plan is an automatically renewing plan. Renewals will be handled by Sage at the then current pricing. A valid credit card and Internet access is required to activate and maintain support and services. Sage 50 Accounting is licensed as an annual subscription. If you choose to not renew your subscription, or your payment is not received by Sage for any reason, your data will become read-only and full program functionality will not be restored until your account current is brought current. May not be combined with any other offers.
Call me at 918-851-9713 or email scollins@iqacct.com to take advantage of this offer.